Curriculum
Our curriculum provision here at BHSA Juniors is engaging, enriched and varied and makes links to real life wherever possible. Our girls are encouraged to share their interests, link their learning to solve problems, raise questions and follow their own lines of enquiry, and are required to think for themselves. Each class teacher promotes working thematically through their termly Project eXplore topics. Core subject skill and drill work is promoted in early morning phonics, arithmetic, spelling and grammar sessions. Presentational and communication standards, including public speaking, are practised regularly. At BHSA Junior School, we consider the subjects of RE and PSHE as vitally important to our girls' broader understanding and cultural awareness of the world. These subjects are taught as discrete lessons each week; our core values of respect, forgiveness and kindness are explored deeply and links made to Project eXplore themes as appropriate.
Our school day model:

Our core values of respect, forgiveness and kindness are explored in Monday and Friday assemblies and collectively as a class throughout the week. Our vision statement of grow, flourish, think together with our three core values are embedded in all that we do at BHSA Junior School, promoting the qualities of being a good learner, a good friend and a good global and online citizen. These values are then supported and developed by class teachers at the end of the day, either through a period of collective reflection, PSHE or RE lesson.
We want our girls to grow in confidence; grow in self-motivation and grow friendships that will last forever. We want our girls to flourish socially and academically, aiming high and never giving up. We want our girls to think independently, making good decisions; think about 'the consequences' and think about others before themselves. We want our girls to be respectful of all, forgiving of themselves and others and kind in their thoughts and actions.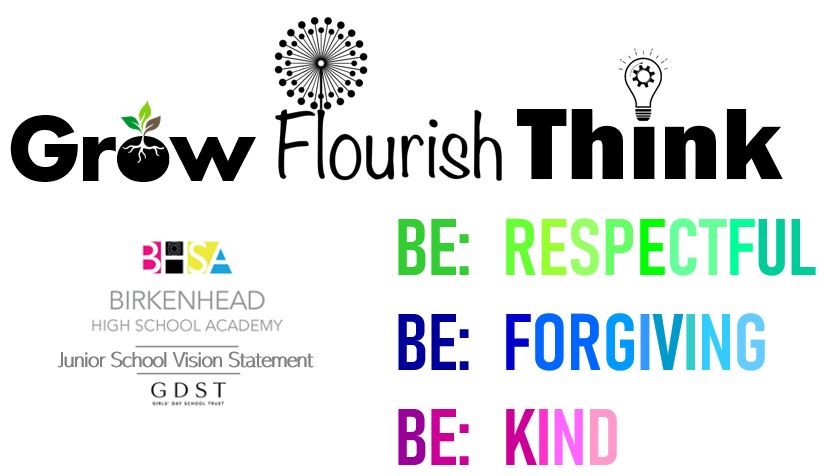 We have an incredible and dedicated staff team who work together to ensure our girls' curriculum provision goes "above and beyond". We have specialist teachers in music, PE and languages and our girls benefit from close links with the older girls in our school and from the specialist facilities on our very own doorstep including the library, theatre space, sports hall, DT and science labs and computer suite.